Aaaaaand…we're back! This the 11th annual Everything Ecstatic Best Albums of the Year roundup and for 2018, I've laid out the 60 albums that meant the most to me this year along with six EPs in a separate section about a third of the way down.
I covered a good number of these artists throughout the year and am linking to some of my favorite features or podcast interviews I did with them if it applies. This was also definitely my most fulfilling year in music festival coverage so you'll notice that a lot of these interviews may have even happened on site in Montréal, San Francisco, Austin, etc…
Keeping the words brief, but including cover art, scattered audio/video/photos and a Spotify playlist at the bottom of the post. My hope is that you can come back to this list and discover artists that you may have skimmed through the first time around or click on a different link and really get to know them. Click the 'Albums of the Year' tab on the top of this site to re-visit past years and hit me at @AGSpinelli on Twitter  or Instagram to follow along with my year-round escapades in music. Lastly, Everything Ecstatic has been producing not just features and blog posts, but also events! Like us on Facebook to stay connected! Enjoy and cheers!
Spinelli
61-51: Stellar Spins 
61. Khruangbin – Con Todo El Mundo
60. Cornelia Murr – Lake Tear of the Clouds
59. Tom Misch – Geography
58. The Ophelias – Almost
57. Saba – CARE FOR ME
56. Kurt Vile –  Bottle It In
55. Steady Holiday – Nobody's Watching
54. Jim James – Uniform Distortion
53. Soccer Mommy – Clean
52 . Young Fathers – Cocoa Sugar
51 . Kamasi Washington – Heaven And Earth
The Top 50 (+ some EP's)
50. tune-yards – I can feel you creep into my private life
An uncomfortable album on the surface, but a brilliant and important one when you dig deeper.
I wrote about it for the KQEDArts Best of the Bay Series.
49. Jefferson Park Boys – Casual Horns, Dog
A stellar beat tape from Mr. Carmack + Kenny Segal + Mike Parvizi.
48. Kamaal Williams – The Return
One half of nu-jazz group Yussef Kamaal, Williams teams with keys player Henry Wu for one of this year's many stellar jazz releases in the budding London scene.
47. Nathaniel Rateliff & The Night Sweats – Tearing At The Seams
One song to rule them all:
46. Robyn – Honey
One song to rule them all part 2:
45. Unknown Mortal Orchestra – Sex & Food
One of the best band's on the planet, straight up.
44. JAIN – Souldier
My favorite globally-inspired French pop singer belongs in the same conversation as the Charli XCX's and Carly Rae Jepsen's of the world.
I got the great pleasure to sit down with JAIN for an interview at the Montreal Jazz festival. 
42. Speedy Ortiz – Twerp Verse
On her third LP, Sadie Dupuis has really settled into one of the most consistent indie acts of the last five years.
Sadie was a guest on the Noise Pop Podcast where we discussed the finer points of the Scream movie franchise (among other things.)
43. Tierra Whack – Whack World
The 15 song Whack World video was the best 15 minutes of the year.
41. Liz Cooper & The Stampede – Window Flowers
Nashville psychedelia for the modern world.
EP Break
I love EP's and last year I posted a separate list for just EP's. But this year, ya boy ain't got time for all that shit, ya dig? So think of the EP list as a commercial break from the program, except I'm not selling anything. Just giving you more #content for free. Yee!
6.  Channel Tres  – Channel Tres
Compton electronica on the Godmode label.
5. The Marías – Superclean Vol. II
Vibey psych soul hymns from LA with a Puerto Rican flair.
Playing Noise Pop Fest on March 3rd with Hana Vu and Katzù Oso!
4. Ric Wilson – BANBA
Another fresh face in the Chicago hip-hop scene.
I learned a lot about his music and activism on this Rocket Radio interview. 
3. Demo Taped – Momentary
The best pure discovery of SXSW 2018.
I spoke with Demo Taped's Adam Alexander in Austin about making glistening music about depression.
2. boygenius – boygenius EP
Lucy Dacus + Julien Baker + Phoebe Bridgers = EVERYTHING.
This concludes our EP break in the program. #1 will appear later down the list, cause it's so spectacular that it gets to play with the big LP kids. 
The Top 40
40. Phonte – No News Is Good News
While he's now best known for co-hosting the Questlove Supreme show, the former Little Brother rapper slays on his sophomore solo album. He's among the best, bar none.
39. Wye Oak – The Louder I Call, The Faster It Runs
After a pitstop with her Flock of Dimes solo project, Jenn Wasner and her venerable voice get back in the saddle with another Wye Oak record.
38. Braxton Cook – No Doubt
Totally loving the millennial jazz movement and this Juilliard saxophonist also sings like no other.
37. Earl Sweatshirt – Some Rap Songs
My buddy Dominic says "Earl is a word ninja but the album sounds like he's smashing watermelons with a hammer…underwater." Still trying to figure out how that's a bad thing??
36. Shannon Shaw – Shannon In Nashville
First solo effort for the Shanon & The Clams star was produced by Dan Auerbach and it has her sounding like the second coming of Lesley Gore.
35. Everything Is Recorded – Everything Is Recorded by Richard Russell
Collaborative album by the XL Recordings label head along with cats like Sampha, Kamasi Washington, Ibeyi, Giggs, Syd, etc…
34. Black Panther – Original Soundtrack
Kendrick Lamar put together the most concise collection of today's best hip-hop artists (SZA, Anderson .Paak, Travis Scott, etc..) to seamlessly accompany Ryan Coogler's groundbreaking film.
33. Campdogzz – In Rounds
Heavily inspired by the work of Jason Molina, Campdogzz put out the first album on Cursive's new 15 Passenger label.
32. Courtney Marie Andrews – May Your Kindness Remain
One of the finest voices to emerge in folk & country this year.
31. Beacon – Gravity Pairs
With shades of 90's electronica, the third album from the Ghostly International synth wave duo is their best to date.
30. Sun June – Years
Found this Austin indie group through Hype Machine's Stack Newsletter curated by my homie Dave Sutton. You should probably subscribe to Stack. 
29. Kiefer – Happysad
Saucy beat tape from the menacing keyboard player on the Stones Throw label.
28. Snail Mail – Lush
Ain't nothing better to bump while driving through suburbia than "Pristine".
27. IAN SWEET – Crush Crusher
Singer Jillian Medford's voice is fucking riveting and this is an accomplished guitar record as well.
26. Myke Bogan – Joe Fontana
As far as I'm concerned, the Portland rap throne belongs to Myke Bogan.
I had the pleasure of producing this Rocket Radio podcast episode with Myke and the homie Jeff Weiss, who put me up on his music.
25. Liza Anne – Fine But Dying
Not what you'd expect from a Nashville record. Shout out to Hardly Art and Liza Anne makes beautiful music while furthering the conversation on living with depression. She's a boss.
Liza inspired and was a part of my photo series of female artists at SXSW this year. 
24. Hop Along – Bark Your Head Off, Dog
The one band my other half and I will never agree on, but I can't deny the power of Frances Quinlan's songwriting and gravelly vocals.
Finally got a chance to speak with Frances at SXSW on our Noise Pop Podcast episode. 
23. Moses Boyd – Displaced Diaspora 
The London drummer and his collaborators make the type of  jazz music I want to grow with.
22. Kikagaku Moyo – Masana Temples
Japanese psychedelia of the highest order.
21. Caroline Rose – LONER
Her past work was leaning more towards country, but on LONER, New Yorker Caroline Rose emerged as a full-blown pop force.
20. Mitski – Be The Cowboy
In this house, we stan a Mitski.
19. astronauts, etc. – Living In Symbol
On the much anticipated Toro y Moi-produced sophomore release, Tony Ferraro slowly begins to morph into David Axelrod.
Tony and I caught up at length on Rocket Radio. 
18. Kacey Musgraves – Golden Hour
There's a reason people who never got down with country love Kacey Musgraves: She's the most talented artist to come out of the Nashville scene in years.
17. The Beths – Future Me Hates Me
Officially my favorite band from New Zealand. This album is crazy fun.
16. Ought – Room Inside The World
Tim Darcy leads another round of bleak post-punk led by his stately baritone delivery.
I had Tim as a guest on the same SXSW Noise Pop Podcast episode that Hop Along's Frances Quinlan and Soccer Mommy's Sophie Allison were on.
15. Jazzanova – The Pool
I waited over a decade for the German production collective to drop another album and in unearthing a new crop of vocalists, they prove once again that they are master collaborators in the adult electronica realm.
14. ODIE – Analogue
The son of Nigerian immigrants grew up in Sacramento and put out a hip-hop album drawing inspiration from Kid Cudi to Fela Kuti.
13. Pusha T – DAYTONA
I'm convinced that Pusha T is the best live rapper in the game. If you know you know.
12. Julianna Daugherty – Light
I spent more somber evenings this year with this gorgeous debut from Charlottesville singer-songwriter Julianna Daugherty's album than just about anything else.
11. Courtney Barnett – Tell Me How You Really Feel
My favorite left-handed guitarist, Courtney Barnett is officially prolific and this pleases me greatly.
10. Parquet Courts – Wide Awake!
The Danger Mouse produced Wide Awake! confirmed that Parquet Courts is one of the finest rock bands in all of the land.
9. Matthew Dear – Bunny
The music of the alpha artist on my favorite label keeps getting better. Bunny —and Dear's output on Ghostly in general— represent the maturation of the electronic music sound that I grew up with and I can't live without it.
I spoke with Dear in the San Francisco Chronicle about making electronic music for 15 years and now being a father of three. 
The Top 8
Generally this is where I get wordier, but this year, I'll be short and instead direct you to the recently released Noise Pop Podcast Best Albums of 2018 episode. We play music from each release and I talk about why these eight albums meant the most to me this year and why I think you should spend a lot of your time with them too. 🙂
8.  Cool Maritime – Sharing Waves
An earthy ambient music album on Leaving Records that harnesses my focus like no other. Factoid: Cool Maritime's Sean Hellfritsch is married to Kaitlyn Aurelia-Smith, who put out my #4 album of 2017 on last year's list.
7. Kaia Kater – Grenades
There's nothing more powerful than making an intentional effort to better understand your roots and how you came to be. Grenades is the result of Kater interviewing her Grenadian father about fleeing the war-torn island and moving to Canada with literally, just the shirt on his back. The title-track, "Grenades" is perfect.
I met Kaia in Fayetteville and interviewed her in a library. 
6. Charlotte Day Wilson – Stone Woman EP
And here is the #1 EP of the year. I did a feature on Day Wilson for the San Francisco Chronicle and said that: "The young Canadian's deep and opulent voice straddles the line between the elegant classicism of Sade, and the operatic modernity of Rhye's Mike Milosh."
5. Amen Dunes – Freedom
An inspiring album about inspiration itself. I had one of my favorite interviews of the year with Amen Dunes' Damon McMahon in the middle of all the hoopla at the Outside Lands festival in SF on this Rocket Radio episode. 
4. U.S. Girls – In A Poem Unlimited
Right now, this is the best live band on the planet. Peep my conversation with frontwoman Meg Remy in Paste's 'Best Live Band of 2018' feature. 
3. Lucy Dacus – Historian
The best indie rock album of the year. I spent an afternoon getting to know Lucy for a Paste Magazine feature and was humbled and extremely impressed with what an amazing human she is.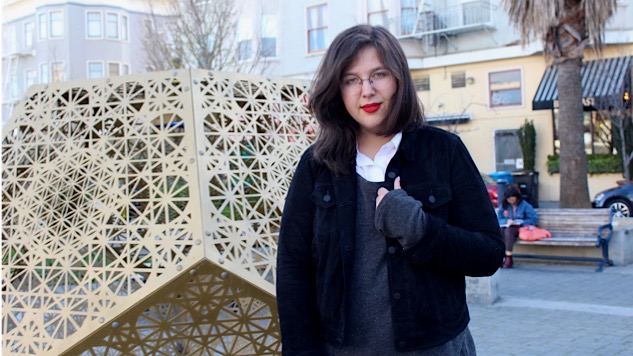 2. DJ Koze – knock knock
I will forever be enamored with everything Stefan Kozalla does. This is my favorite electronic producer and he is fascinating in every sense.
1. Janelle Monáe – Dirty Computer
The hero America needs. Again, please listen to my diatribe on the Noise Pop Podcast for my words on Janelle Monáe, why she's my kind of star and why we'll remember Dirty Computer forever as a diamond amidst tumultuous times in our culture. Prince would be so proud ❤